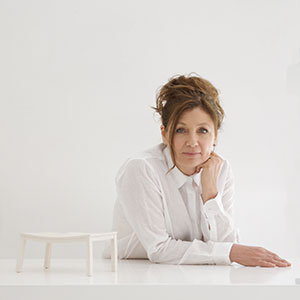 Ph: Bea Fresno
DIANA SCHUFER
Buenos Aires, 1957.
Visual artist, graduated in Psychology.
In 1984 I began my artistic training in Kenneth Kemble's studio. In 1988 I had my first solo show in the gallery Soudan (Buenos Aires, Argentina) and in 1994 my first installation: "Cartas y camas de amor" in the Centro Cultural Recoleta (id.). Three years later I was invited to participate in the Bienal de la Habana, Cuba, with the work "Donde las cartas se unen…". In 1999 I received the grant of the Fondo Nacional de las Artes. The development of my work unfolds through installations, many of them sound installations. The axis of my work is the language of interpersonal relations, the language of love and eroticism in all its variants. I'm interested in generating tours of sensory immersion, where the boundaries between public and private aspects become blurred. Nowadays I'm exploring the traces of sexual abuse using drawing and video as tools.
I have had solo and collective shows in galleries, museums and institutions, such as "Punto de fuga", Fundación Federico Klemm; "Hasta el final" Argentine Embassy in London (2006); "Nocturno" Centro Cultural Recoleta (2007), and Museo Castagnino + MACRO, Rosario (2008). Since the year 2012 I co-direct with Olga Martínez "Ensayo General", a contemporary art project.
________________________________
Awards and grants
2012
Gritos Sordos II, 1 st price Salón Nacional a las Artes Visuales
Yo te creé, yo te destruyo, 2º price FLAVIA, Festival Latinoamericano de Video Arte
1999
Grant Fondo Nacional de las Artes Award Exhibitions
2014
Nocturno, -Amor- Casa del Bicentenario, Buenos Aires, Argentina
Souvenir -Intimidades- Muestra Itinerante – Ministerio de Cultura y Comunicación Entre Ríos, Argentina
Yo te creé, yo te destruyo – Amores, desamores – Centro Cultural Recoleta, Buenos Aires, Argentina
2013
Yo te creé, yo te destruyo -MADC- Costa Rica
Yo te creé, yo te destruyo -Instants Vidéo 2013, Marseille, Provence, Francia
Yo te creé, yo te destruyo -Vivir- Sobrevivir, territorios de la precariedad- AAVRA- Centro Cultural Recoleta, Buenos Aires, Argentina
Yo te creé, yo te destruyo, Museo MACAY, Mérida, México
2012
Yo te creé, yo te destruyo -In- Out-House. Circuitos de género y violencia en la era tecnológica- Valencia, España
Yo te creé, yo te destruyo -Muestra de arte por la equidad- Centro Cultural Borges, Buenos Aires, Argentina.
First edition of Ensayo General, Buenos Aires, Argentina
2011
Yo te creé, yo te destruyo, FIVA Festival Internacional Video Arte, Buenos Aires, Argentina
Gritos Sordos I, INADI, Buenos Aires, Argentina
Gritos Sordos I -Cuentas Pendientes- Edificio de la Ex ESMA, Buenos Aires, Argentina
Souvenir -Ospite Inatesso BA, Buenos Aires, Argentina
2010
Gritos Sordos II, ArteBA / Galería Isidro Miranda, Buenos Aires, Argentina
2009
Gritos Sordos I, Award "Fundación Klemm a las Artes Visuales", Buenos Aires, Argentina
Souvenir, arteBA / Galería Isidro Miranda, Buenos Aires, Argentina
Souvenir -Intersecciones- Galería ArtexArte, Buenos Aires, Argentina
2008
Nocturno, Museo Castagnino + MACRO – Rosario, Santa Fe, Argentina
Souvenir, Galería Isidro Miranda, Buenos Aires, Argentina
¿Qué estás pensando? -Domus- Fundación Federico Klemm, Buenos Aires, Argentina
Rojo/Azul/Blanco -Intercambios- Galería ArtexArte, Buenos Aires, Argentina
2007
Nocturno, Centro Cultural Recoleta, Buenos Aires, Argentina
2006
Hasta el final – Argentine Embassy´s Residence in London, UK
Escondida -Terreno de arte experimental. Fase 2: arte y naturaleza- Dirección
General de Museos, Buenos Aires, Argentina
La Almohada -Longo caminho de um rapaz apaixonado- Museo Castagnino+MACRO, Rosario, Santa Fe, Argentina
2005
La Condesa Sangrienta, Centro Cultural Recoleta , Buenos Aires, Argentina
Ocupado, Galería El Borde, Buenos Aires, Argentina
2003
Sed -Trazos y Trazados- Fundación Federico Klemm, Buenos Aires, Argentina
Nocturno Montserrat -Boquitas Pintadas Pop Hotel- Museo Prov. de Bellas Artes de Corrientes, Corrientes, Argentina
Almohaditas – Estudio Abierto Retiro – Acción Macadamia, Buenos Aires, Argentina
Nocturno Montserrat – ArteBA / Boquitas Pintadas Pop Hotel, Buenos Aires, Argentina
Nocturno Montserrat – Boquitas Pintadas Pop Hotel, Centro Cultural Nordeste – Chaco, Argentina
Nocturno Montserrat – Boquitas Pintadas Pop Hotel, Centro Cultural Recoleta, Buenos Aires, Argentina
2002
Nocturno Montserrat – Boquitas Pintadas Pop Hotel, Buenos Aires, Argentina
Encendida – Juguetes para Icaro, Centro Cultural Recoleta, Buenos Aires, Argentina
El abrazo, Premio Fundación Klemm a las Artes Visuales, Buenos Aires, Argentina
2001
Punto de fuga – Políticas Corporales- Fundación Federico Klemm, Buenos Aires, Argentina
Pares-no pares, Premio Banco de la Nación Argentina a las Artes Visuales, Buenos Aires, Argentina
La almohada, Premio Fundación Klemm a las Artes Visuales, Buenos Aires, Argentina
2000
Urban intervention with light on the façade of the Sony Building, Buenos Aires, Argentina
1997
Donde las cartas se unen… – 6ta. Bienal de la Habana – La Habana, Cuba
Puntos suspensivos…, Centro Cultural Borges, Buenos Aires, Argentina
1996
No sabe, no contesta, Palais de Glace, Buenos Aires, Argentina
Tributo a Frida, Centro Cultural Recoleta, Buenos Aires, Argentina
Arte Argentino Contemporáneo 80/90, Fundación Banco Patricios, Buenos Aires, Argentina
1995
Donde las cartas se unen…, Fundación Banco Patricios, Buenos Aires, Argentina
El lavadero – ArteBA /Centro Cultural Recoleta, Buenos Aires, Argentina
Las palabras se las lleva el viento -Once x Once- Museo Castagnino, Rosario, Santa Fe
No sabe, no contesta, Teatro Auditórium Mar del Plata – Mar del Plata, Buenos Aires, Argentina
Award Telecom, Palais de Glace, Buenos Aires, Argentina
1994
Cartas y camas de amor -a, e, i, u, o- Centro Cultural Recoleta, Buenos Aires, Argentina
La séptima cama -Jornadas de la Crítica- Centro Cultural Recoleta, Buenos Aires, Argentina
Las palabras se las lleva el viento – Instalaciones IV- Palais de Glace, Buenos Aires, Argentina
La desnudez del texto -Espacio Fin de Siglo- FOA, Buenos Aires, Argentina
1992
Galería Tema, muestra individual, Buenos Aires, Argentina
Award "Fundación Nuevo Mundo", Museo Nacional de Bellas Artes, Buenos Aires, Argentina
Las voces emergentes -Jornadas de la crítica- Harrods, Buenos Aires, Argentina
1991
Instituto Consolata, Brecia, Italia – Solo Show
Award Cintoplom – CAYC/ Harrods en el Arte, Buenos Aires, Argentina
Award Blades – CAYC/ Harrods en el Arte, Buenos Aires, Argentina
1989
Fundación Banco de Boston – Solo show, Buenos Aires, Argentina
Banco Alemán – Solo show, Buenos Aires, Argentina
Tribute to Kenneth Kemble, Museo Sívori, Buenos Aires, Argentina
1988
Galería Soudan, solo show, Buenos Aires, Argentina
Education BA in Psychology, 1979
Drawing and Painting – Kenneth Kemble's studio, 1984/ 88
Video – Carlos Trilnick 2002
Intercambios, project analysis – Valeria González 2008